After the first two posts on general aspects, medals and TOP10 systems, it is now time to have a look at what happened below the TOP 10 nations in the table and try to understand more performance and systems trends.
Canada has been climbing ranks since London 2012 moving from 27th place with 18 medals (2 Golds) to the 11th place in Tokyo with 24 medals (7 Golds). Canada won medals in 10 sports with Athletics and Swimming winning half of the total medals. No medals in Women athletics, but a 4th place in the 4×400. Very good performance in Men's athletics, with the potential to upgrade the bronze to silver in the 4x100m if Team GB will lose it due to a Doping positive finding in one of their relay member. Andre de Grasse delivering two individual medals with the Gold in the 200m and Evan Dunfee confirming that when the heat is on, he is well prepared, just like he was in Doha 2019. Overall the Canadians take 5th place in the points system in Athletics. Huge Gold medal in Women's Football (or Soccer like they like to call it in North America). I bet the semifinal win was celebrated as much as the Hockey Gold in Vancouver in 2010. Canadian women winning in track cycling (no boys near the podium). Canada has a good sports infrastructure and great scientific support and has been always performing very well in the Winter Olympics. Looks like the Canadians are cracking the code in summer sports too. In fact, they qualified the largest team in history in Tokyo (also thanks to new sports for sure) but with good investment and talent (also talent transfer) in multi-medal sports I think they can challenge the TOP 10 if the level of investment stays up and maybe they put some effort in cycling, where I am sure they can have the talent and the resources to up the ante. There are great news for the Canadians in terms of sport funding with some specific funding to ensure indigenous women and girls have access to sports activities. In this day and age, 10 Golds take you in the TOP 10…if they can find them in 3 years, taking some away from other nations, they are in! So keep an eye on the Canadian team in Paris!
Brazil managed to improve a bit on their home games (adding two bronze medals to the previous games) and improving one position in the ranking (12th place). Medals came from 12 sports, and a big boost came from 3 medals from skateboarding with some young athletes taking a lot of attention thanks to their impressive skills and stories. Almost an even split of medals distribution between male and female athletes. Performance seems stable despite the rollercoaster ride of Olympic Sports in Brazil after the Rio Olympics. If you are not familiar with the 'Operation car wash' you can read more here. I believe Brazil and India are the two sleeping giants of World Sport. Large populations, enormous potential when you see the amazing athletes they have. The impressive performances of Rebeca Andrade in Gymnastics and Ana Marcela Cunha in the 10K open water swim and the women's volleyball silver also show the potential for female athletes in Brazil. Resources and support structures are what Brazil needs to reach TOP 10. If they can make the planned legacy centres work and staff them with qualified and motivated individuals with good quality coaches, they can be a World power in sport (more details on the national training network are here).
Hungary and New Zealand won more than Rio 2016 and confirmed their places just below the Top 10. Hungary won medals in 9 sports with 1/3rd of the medals coming from female athletes. Big disappointment was the Women's handball team (but their future is bright with a lot of up and coming talent), and maybe they were expecting the women's water polo team to be in the Final against the US. Canoeing always producing the goods for Hungary with solid history in the sport and continuous talent. They always have a good return for investment thanks to high quality athletes and a coaching system linked to sports science development mostly in the University of Physical Education and Sports Science TF which is the main hub of coaching education in the country (I am an alumnus, so I am biased, but this place is really special).
New Zealand is one of the few countries consistently increasing the number of medals won since Athens 2004. The progression has been immense.
| | | | | | | |
| --- | --- | --- | --- | --- | --- | --- |
| Edition | Athletes Entered | Gold | Silver | Bronze | Total | Rank |
| 2000 Sydney | 151 | 1 | 0 | 3 | 4 | 46 |
| 2004 Athens | 148 | 3 | 2 | 0 | 5 | 24 |
| 2008 Beijing | 182 | 3 | 2 | 4 | 9 | 25 |
| 2012 London | 184 | 6 | 2 | 5 | 13 | 15 |
| 2016 Rio de Janeiro | 199 | 4 | 9 | 5 | 18 | 19 |
| 2020 Tokyo | 213 | 7 | 6 | 7 | 20 | 13 |
New Zealand in recent editions of the Summer Olympics
For such a small country winning medals in 11 sports is phenomenal and 8 medals between rowing and canoeing come at a fraction of the cost of the respective Team GB programmes. Almost an even distribution of male/female medals (9/11). I always look at HPSNZ as good reference system where resources are maximised and innovative approaches are used tos develop sport in the country. If you want to know more about it, you can access the information here. The new investment strategy looks promising with the potential to support more athletes and sport achieve international success. The sad story for NZ sport was the tragedy of the cyclist Olivia Podmore. An independente inquiry has been announced to look into the environment of cycling NZ and what can be done to improve health and wellbeing of athletes.
What else has been happening in the second and third tier nations?
Spain is stable with 17 medals (albeit a lot less gold) than previous editions which puts them after the TOP 20. 3 medals from Team Sports for the Spanish team, not much coming from Athletics or Cycling, nothing in Swimming but Gold medals in the new events Karate and Sport Climbing. For a country of 46M people, I think they underperform, they should be in the top 20. I echo what Fernando Carreño wrote on La Marca, there is a need to adopt some sort of system in Spain. Which one is the question. He suggests the Dutch one due to the links with the former head coach of Spanish Hockey Maurit Hendricks who was leading the Dutch NOC in this Olympic cycle. Can the massive debt reported from their two major football Clubs Barcelona and Real Madrid sway the interest and funding opportunities for Olympic Sports? In the meantime, Los Hispanos (the handball men's team) brought home another Bronze medal closing a cycle with the legendary captain Raúl Entrerrios bringing closure to an incredible career with the national team. Also, the women's water polo team tried to upset the US team in the final, however, at the moment, the Americans are totally out of reach for anybody.
Kenya is on the way down (-3 medals from Rio 2016). This is due to the diaspora of athletes moving to compete for other nations (I think I could identify around 20 Kenyans competing for other flags with some winning medals) as well as stricter antidoping/eligibility rules imposed by some international federations. Time will tell if the Kenyan dominance n running events will fade due to the current challenges.
Other major things to note in the medal table: the massive drop in medal count for Azerbaijan (7 medals in Tokyo vs 18 in Rio, all medals coming from combat sports) and Uzbekistan (5 medals in Tokyo vs 13 in Rio with Boxing producing only 1 medal vs 7 in the previous edition). Those two nations were the big losers in the medal table.
Arab nations
Qatar was the top-ranked Arab country in the games, with three medals, including two golds and one bronze. They were the first two Olympic gold medals in Qatar's history. Athlete Fares Ibrahim El-Bakh won gold in men's 96kg weightlifting and Mutaz Essa Barshim in the high jump (sharing the gold with Marco Tamberi of Italy). Qatar's bronze medal came from men's beach volleyball.
The second best-placed Arab country in Tokyo was Egypt, with six medals, one gold, one silver, and four bronze. The Egyptian gold came from women's Karate Kumite, with athlete Feryal Abdelaziz in the over 61 kg category. Ahmed Elgendy won silver in the modern pentathlon. Giana Lotfy won bronze in women's under 61kg Kumite, Seif Eissa in men's 80 kg taekwondo, Hedaya Malak in women's 67 kg taekwondo, and Mohamed Ibrahim Elsayed in men's 67 kg wrestling. The Handball Pharaohs lost the bronze medal match against a much experienced Spanish team. But they had a fantastic tournament, played a very attractive style of handball thanks to influence of Spanish coach Parrondo and have high quality players in their team (keep an eye on the young talent Hassan Walid Kaddah in the future). They are the team to watch in Paris.
Tunisia was the third best-ranked Arab country in Tokyo, in 58th place. The country earned two medals, one gold, and one silver. The gold came from the incredible performance of Ahmed Hafnaoui, in the men's 400 m freestyle swimming. Mohamed Khalil Jendoubi earned silver for Tunisia in the men's 58 kg taekwondo.
Morocco came 63rd with a gold medal in men's 3,000 m hurdles in athletics by Soufiane El Bakkali. Jordan took 74th place with one silver by Saleh Elsharabaty in men's 80 kg taekwondo and a bronze by Abdel Rahman Almasatfa in men's 67 kg Kumite.
Bahrain finished 77th with one silver by Kalkidan Gezahegne in the women's 10,000 m athletics. Saudi Arabia reached the same position as Bahrain, with a silver medal from Tareq Hamedi in men's over 75kg Kumite.
Kuwait came 86th, with a bronze from Abdullah Alrashidi in men's shooting. Syria, also in 86th place, earned a bronze medal with athlete Man Asaad in men's over 109kg weightlifting.
Continental Trends
Asian sport is on the up, thanks to the investment in infrastructure and expertise in the continent. For the first time in history, Asia has won more than a quarter of the medals awarded in the Olympic Games.
This result was boosted by Japan's performances as well as the usual strong performance from China, but more nations are now achieving incredible results, and the first gold medal also arrived for India thanks to India's young javelin thrower Neeraj Chopra who won his country's first Olympic gold medal in track and field.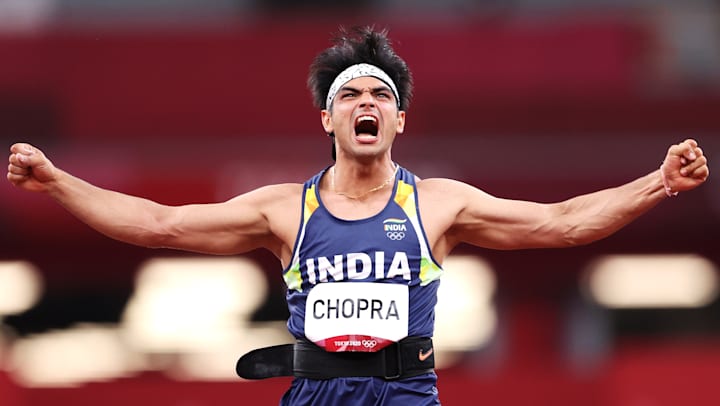 First Gold medal also for the Philippines, thanks to the outstanding performance of Hidilyn Diaz beating the World record for the 55kg weighlifting women's division of 127 Kg in the Clean and Jerk (total 224 kgs).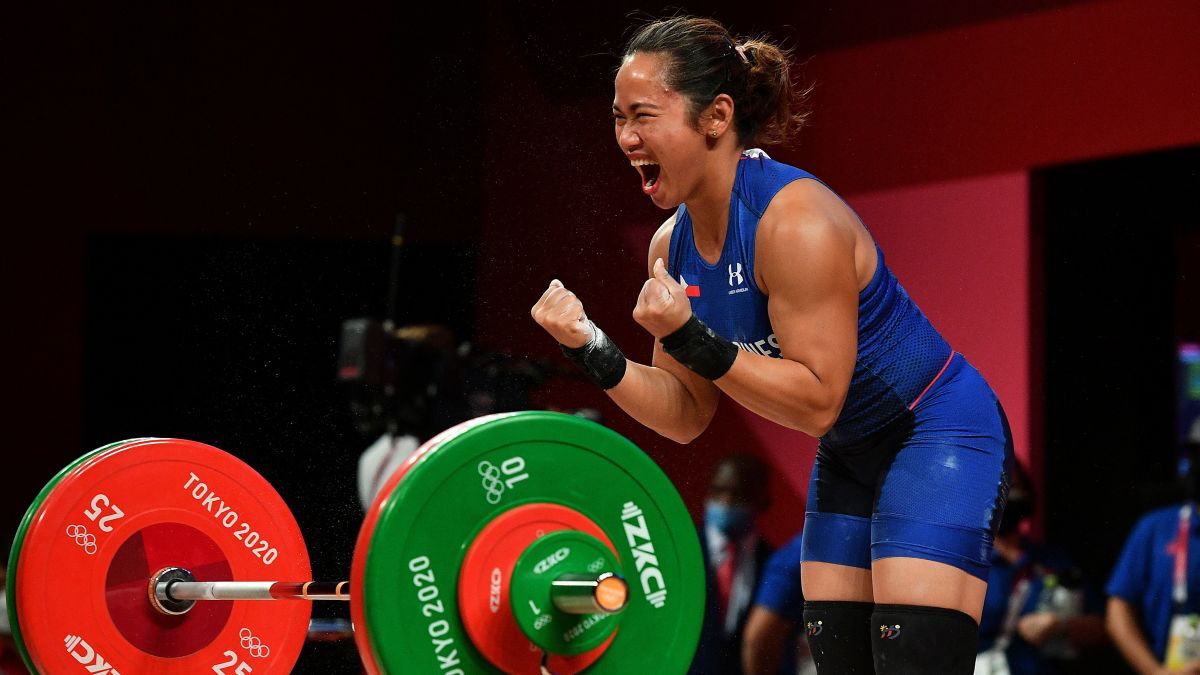 There are a lot of analyses available online looking at alternative medal tables taking into consideration GDP, Population, etc. I suggest you look at the excellent visualisations from the Sky News data journalist Ganesh Rao as well as the example below from Bloomberg.
FiveThirtyEight's interactive medal count provides an overview of the number of medals won by the NOCs in the context of the initial analytic expectations. The projections were generated based on the competing countries' achievements in each sport over the past three Summer Olympics (you can read more about the methodology used by this FiveThirtyEight here)